 Justin
Located at Stoneoak
Wed, Thurs & Sun: 12-9 PM
Friday – Saturday: 12-10 PM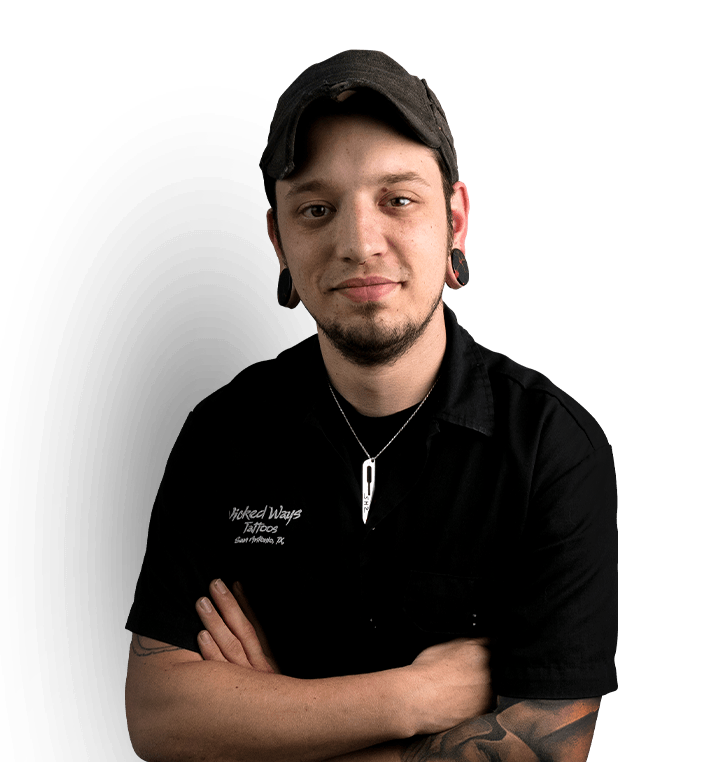 Experience
I was a "hang around" at a friend's studio when I was 18 and since I was always there he decided to take me under his wing and give me a shot at what I love so much. Wicked Tattoos was where I was truly given the opportunity to really spread my wings and begin my career, hone who I wanted to be in this industry, and had the free reign to accomplish it my way.
What's your favorite piercing style?
I love ears!! There is no limit besides your own imagination to what can be accomplished with custom ear projects.
Who or What inspired you to become an artist?
Although I have many people I owe my career to, and they know who they are… the person that I most look up to is hands down Rob Hill from Prysm body piercing.
*Our piercing prices reflect the piercing, initial jewelry used to assist in proper healing as well as the aftercare.
REQUIREMENTS FOR CUSTOM PIERCINGS
*All Dermal, surface, and genital piercings are required to have a consultation with our piercer.
SHOP REQUIREMENTS FOR UNDER-AGE CLIENTS
If you are under the age of 18, per Texas regulation, you must bring in your birth certificate and a parent as well as their ID. If you are of the age 18 or older, you will just need a state-issued ID.